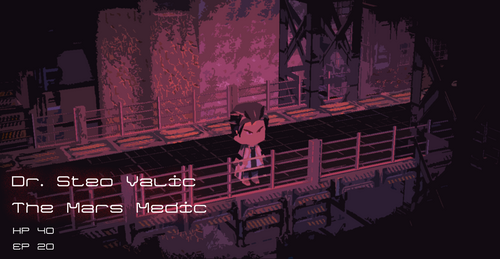 Here is another quick update that fixes a bunch of credit stuff, and some other things. It has come to my attention after numerous play tests, I may have to comb through this thing and make sure all the punctuation is up to par. I noticed a few words I have yet to fix, but I plan to do another wave of fixes on Monday with hopefully a 1.6 update.
Redid the entire intro so I properly credit the right folks that help me make this game possible. Added a shorter version of the main theme.
Added intro title music, and possible cover. (Rough draft #1 seems alright so far!)
Added some different arrangements to the area music in some of the later areas. still a (WIP)
Fixed some of the values of the weapons light and heavy. I still need to touch up the market to make some of the stronger weapons a bit more pricey.
Changed some of the strengths of boss's and mobs through-out the demo, including adding a secret boss at the very end. It is located in the B10-1 mine. (It's to preview the new areas I am working on, without proper door animations although.)
I need to fix some of the foot step sounds still. There is a loop effect I have yet to fix, but on Monday I have a method that may work.
Added some extra batteries in some areas where I died a lot. (They seemed like a proper supplement)
Files
Paradox Escape Route DEMO v1.5.rar
256 MB
Jan 07, 2018
Get Paradox Escape Route DEMO